ENJOY DEALS AND SPECIAL OFFERS ONLY AVAILABLE TO FTE VIP MEMBERS
Program Highlights
FTE VIP Members collect points every time they shop at From The Earth locations in California!
Every $1 spent equals 1 point earned
and those points add up to 5% cash back rewards that you can spend at any From The Earth location in Calfornia.
Members get exclusive access to double and triple point days to unlock rewards faster.
Get 15% off store wide twice a month
On the first Friday and the 20th of each month.
Celebrate your birthday with a 25% discount on us.
REWARDS PROGRAM BENEFITS
Every $1 Spent Equals 1 Point Earned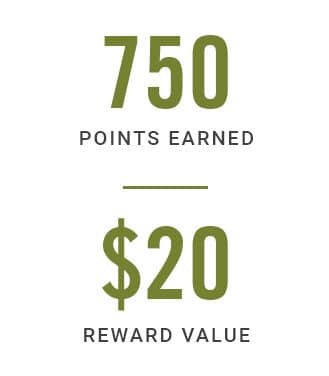 Frequently Asked Questions
How do I sign up and begin earning points?
fromtheearth.com, click on the Rewards link on the About menu and follow the on-screen instructions to sign up.  Once you're registered, you'll automatically earn 1 point back for every pre-taxed dollar spent in our retail stores or on pick-up orders placed online at our website or over the phone. 
How can I use my rewards?
Earn Live Grow rewards can be redeemed at all From The Earth locations on products and merchandise, certain exclusions apply. When checking out in-store, present your Earn Live Grow smart wallet on your smart phone to your FTExpert and they will gladly apply your rewards to your order. 
Are there any exclusions to what my rewards can be used toward?
Rewards have no cash value, cannot be redeemed in partial increments and may not be used toward the purchase of a gift card. 
Do my points expire?
Points are valid for 12 months from the date you joined the Earn Live Grow Program.  If you shop anytime within your membership year, your account remains active and you will have an additional 12 months to accumulate points for redemption. 
Do my rewards expire?
Unused rewards will expire 12 months from the date they are issued.
Where can I find my points and rewards?
Click on the Login/Register button. Follow the on-screen instructions: enter your cell phone number to receive a link to your personal Earn Live Grow wallet.
Who is eligible to join the FTE VIP program?
Membership is free to all legal U.S. residents 21 years of age and older, or U.S. residents 18 years and older with a valid medical cannabis card. 
What are qualifying purchases?
Points are earned on all purchases except when noted on special promotions.  If points are earned on a purchase that is later returned, the points will be deducted from your wallet at the time of the return. 
Why haven't I received my reward yet?
After purchases have been made, points may take up to 24-72 hours to appear in your Earn Live Grow wallet. Once the points threshold has been met to earn a reward, a reward will be issued automatically to your wallet within 24 hours.  Once you redeem your reward, the associated points will automatically be deducted from your wallet.
How do I cancel/change my membership?
You can change or cancel your membership by visiting the settings page in your wallet.
When can I start earning points?
You can register at anytime. Register now to start earning.
*We reserve the right to modify or discontinue the FTE VIP program at any time without notice.