If you're looking at growing your own weed, it might seem fairly simple to start. While that is true to some degree, it's also important to know that some strains are easier than others to grow. For example, some have more delicate tendencies than others, or might even be prone to mold where other strains aren't. A few things you might want to ask prior to beginning, such as inquiring about which strains you are able to miss watering for a day or which ones are highly susceptible to shifts in environment?
If you hadn't considered these questions, that's okay! Our cannabis dispensary in Port Hueneme is here to help you sort this information out and make the growing process just a little bit simpler. Keep reading to learn more about the five easiest strains to grow!
Strain #1: Blue Dream

Perhaps one of the most popular strains available on the market, Blue Dream is a total classic for all cannabis enthusiasts. Originating in Northern California, Blue Dream is a cross between Blueberry and Haze, two well-known parent strains. Typically, it has high yields, growing big and tall thanks to its sativa-dominant roots. For the best results, be sure to build a scrog, or a structure, to go around the plant. Scrogs are usually made of PVC pipe, as it is weather-resistant and durable. Think of it like a cage that goes around a tomato plant. 
If you are a newbie in the realm of cannabis growing, Blue Dream is the perfect starter strain. This is due mostly to how resilient it is, continuing to grow even if you forget to water it one day or go a little too hard on the nutrient feedings. The best part is that it can even handle cold nights, and grows well in both indoor and outdoor settings. So, for the most part, no matter what climate you live in, you are sure to have a thriving cannabis plant.
Strain #2: Wedding Cake

No, we're not talking about the delicious treat served at wedding receptions. But we are, however, referring to one of the newest strains available. This rising star in the cannabis world, Wedding Cake, is a Cookies cross that is Indica-dominant and grows short and stout. You will still see quality yields and dense buds, though. Just make sure that you stay on top of pruning to help prevent molding along the way – that would certainly feel like rain on your wedding day!  
One of the reasons it is dubbed Wedding Cake is because of the trichomes on top that appear frosty and sticky, like a glaze. These are also quite fragrant, smelling of citrus and vanilla that is really appealing and sweet, as any treat should be. So while this one is slightly more difficult to upkeep, the pay off is absolutely worth i
Strain #3: Super Lemon Haze

If you like things that taste a bit citrusy, then you will want to check into growing Super Lemon Haze. It is a cross between two major contenders: Super Silver Haze and Lemon Skunk. Due to the strong amount of sativa that exists in its origins, this cannabis plant will do better in warmer climates, bonus points if there is some humidity. However, it is still pretty versatile and can grow in most settings. 
While it is low-maintenance in terms of attention, Super Lemon Haze will need some space to grow. Like the parent strain Lemon Skunk, this cannabis strain will want to stretch out. Of course, scrogging, or building some sort of support system, will help, though it is not entirely necessary. Also, don't expect to jump up and harvest right away. You will need a bit of patience, as it takes Super Lemon Haze about nine weeks to flower, yet another sign of its sativa origins.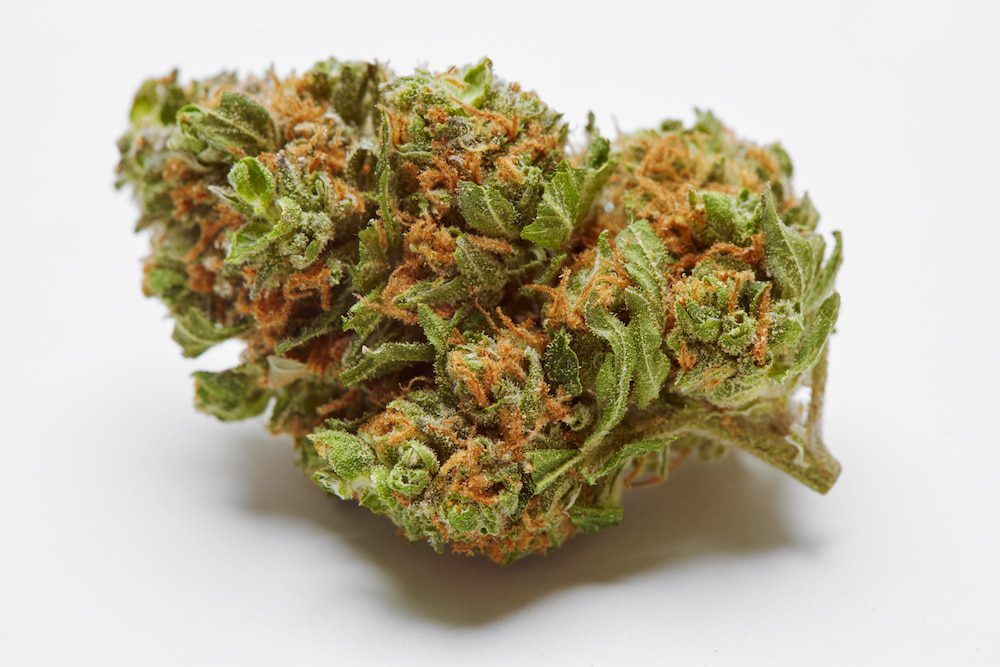 Strain #4: GMO Cookies

Unlike the last two strains mentioned above, GMO Cookies brings an odd yet satisfying combination of scents to the game: garlic and cookies. Now, we know what you are thinking, but this new strain is becoming the talk of the town for a reason. A cross between two big-name strains, GSC and Chemdog, GMO Cookies has some unique traits:

Light green buds with orange hairs

Dense and sticky

Produces a higher yield

Trichome levels perfect for pressing hash
Another ideal trait about it is that it can handle growing both indoors and outdoors. However, once again, make sure to execute patience when growing, as it takes about nine to ten weeks to flower and be ready for harvest. It will be worth the wait though, as GMO Cookies brings a new flavor as well as a quality high.
Strain #5: Sour OG

If you are on the hunt for something truly outside of the box to grow, but is still relatively simple in terms of growing, we suggest testing the waters with Sour OG. Skunk, spice, fuel, and hints of lemon and pine all combine forces to create something truly special. A combination of OG Kush and Sour Diesel, this will be a strain you will want to try.
Compared to the other strains listed above, this one will have a fairly quicker yield time of around 8 weeks. Just make sure that this particular plan had a trellis and a scrog for maximum yields. Again, humidity is best for this strain and allows for the production of denser buds. All in all, Sour OG is a great choice if you want something that is both potent and features a unique blend of flavors.
Cannabis Dispensary in Port Hueneme

Do you still have questions about growing your strains or just want to learn more about cannabis in general? We invite you to stop by any of our great From The Earth locations, including our shop in Port Hueneme, and talk to our helpful staff members. Our goal is to educate and be a resource for our community and customers by providing a safe, non-judgmental environment where you can grow and thrive, just like your cannabis plants!