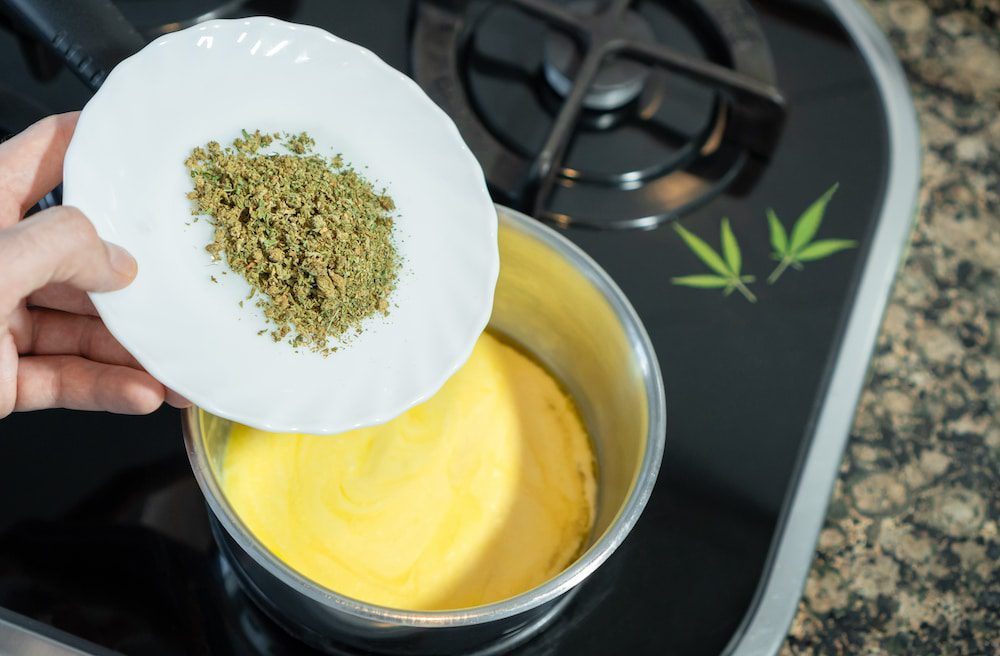 It is no secret that the world of cannabis has transformed in the last decade. Once upon a time, edibles were mainstream only because they were so often used as the punchline in stoner comedy movies. Thanks to legalization and education, however, they have taken a new shape and are being recognized for their benefits, which can even include helping with anxiety and body pain. High quality edibles can be bought at your local weed dispensary or even prepared at home. 
But what does it take to make your own edibles? How do you know if you're ready to put on your chef hat and try your hand at cooking with cannabis? While having a little kitchen prowess beforehand never hurts, even a newbie can make delicious edibles if they follow the proper steps! However, going into the kitchen and cooking with weed does require an extra layer of safety precaution that you need to be aware of. 
Today, our weed dispensary in Santa Ana has a few tips we'd like you to check out to make sure that you safely and properly cook and bake with cannabis. 
The Differences Between Smoking and Ingesting Weed
The first thing you need to know is that there are a few noteworthy differences between smoking and ingesting cannabis. While both methods bring about relief and can get you high, it really comes down to the time and duration of the high. Normally, smoking cannabis allows for the effects to happen much quicker, however, the high goes away faster as well. Ingesting can take more time to kick in, but the impact sticks around longer.
Smoking
Depending on the person and their tolerance level, most people feel the high from smoking within the first ten to fifteen minutes. This high usually lasts a few hours (2 or 3), though this is also dependent on the strain, dosage, and sensitivity of the individual. However, some people do not enjoy smoking or have lung issues that prevent them from doing so. 
Ingesting
One of the biggest mistakes that cannabis newbies make is eating too much too fast. This is due in part to the fact that it takes longer for the effects to soak into the bloodstream and kick in. Depending on the edible and dose, usually the impact doesn't happen for about an hour or more. Once it does occur, however, buckle in for the long term. A high from edibles usually has a duration period of anywhere from 4-6+ hours. That is why it is vital to ensure that you are dosing the proper amount for your tolerance level to avoid feeling sick or a type of high that's outside of your comfort zone.
5 Cooking Safety Tips
Now that you have a little background information, here's what you need to know to cook with cannabis safely:
Tip #1: Never cook with raw cannabis.
Cannabis has to be heated up in order to activate compounds necessary for getting you high. And no, sadly, this does not include the baking or cooking process itself. Plus, raw cannabis does not taste very good, either! If you are using raw flower, make sure to dry and cure it prior to adding it to your recipe. 
Tip #2: Select the right strain.
There are quite literally hundreds of strains of cannabis to choose from. Each one offers a unique flavor and high to help best meet your needs. Smelling the weed will generally give you a good idea of what the flavor will be. If you are uncertain about what you want, that is where a visit to our cannabis dispensary in Santa Ana can come in handy! Our helpful staff will gladly assist you in making a selection.
Tip #3: Decarboxylate the cannabis properly.
As we briefly mentioned above, raw cannabis is a no go when cooking. Decarboxylation refers to the chemical process of heating up weed. If your weed needs to go through the decarboxylation process first, make sure that you do it properly! First, begin by cutting up your weed into small pieces, about the size of a pea. Then heat in the oven on a baking sheet at 275ºF for 20 minutes. Don't forget to line the pan with parchment paper! 
Tip #4: Make sure to use the right dose.
Another rookie mistake you will want to avoid making is adding too much cannabis to whatever you are cooking. Not only will it negatively impact the flavor, but it will also likely have an undesirable effect when it comes to the high. As a general rule of thumb, try to stick to about 2.5 mg of cannabis, especially if you are a beginner. As you become more seasoned, feel free to work your way up to 5 mg of cannabis. 
Tip #5: Safely store any leftovers.
From homemade cannabis brownies to weed cookies and everything in between, make sure that you are properly storing your leftovers. A ziplock bag or plastic storage container will work great, but just make sure that you are labeling them, especially if you live with roommates! No one wants to eat a cookie from the counter and unexpectedly feel high an hour later. If you have pets or children, make sure to keep your edibles far out of reach and in a safe spot. 
Have Questions?
Cooking with cannabis can be a big undertaking at first., but once you have it down, it's something you will likely very much enjoy. Just make sure you are abiding by both the recipe and these safety tips, and you should be good to go! 
If you have any questions about the process, or which weed you should purchase, our From The Earth team would love to assist you! Pop into one of our locations, including our weed dispensary in Santa Ana or Port Hueneme, and let us help you out. We strive to create an environment that is welcoming and educational for everyone.