Best Cannabis Products to Help You Get a Good Night's Rest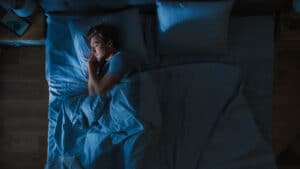 Millions of Americans struggle with getting proper rest despite how essential it is for our health. It is no secret that our bodies need sleep to keep our brains and other organs fully functioning, our memory and cognition in good shape, and in order to lead a healthy and fulfilling life. 
As we all know, this doesn't always happen. Whether it's a night here and there, or a chronic or recurring issue, it can leave us feeling drained, affecting our overall quality of life. In fact, missing out on sleep can be downright dangerous, and prolonged insomnia can lead to long-term health issues such as diabetes, heart attacks, obesity, depression, and more. That is a startling fact, to say the least.
However, if you are someone who struggles with sleep, don't worry! We have some amazing products lined up from our cannabis dispensary in Port Hueneme, along with our other locations, that we recommend to help you get the rest you deserve. 
Elderberry Enhanced Gummies
For those in the market for a delicious edible that will have you counting sheep in no time, then we highly recommend this amazing elderberry gummy from Wyld. Thanks to the combined efforts of both CBN and THC, you are guaranteed not just to fall asleep, but experience an overall elevated quality of sleep. Take a couple a half an hour before bedtime, throw on your favorite pajamas, and rest easy – that simple!
CO2 Oil Cartridge 
If vaping is your style, you have to pick up Rove's APE cartridge. This product is specifically designed to help soothe pain and combat both stress and anxiety. So if those troublesome, anxiety-addled thoughts tend to be the culprit behind your restlessness, give this a shot! It is a blend between Mendocino Purps, Skunk, and Afghani, combining dark berry notes accented with a distinct grape-like aroma, so you know it's bursting with flavor. 
Stay Asleep Supplement
An all-natural sleep aid is always the way to go, and that's exactly what you get from Sandland's Stay Asleep supplement. Available in an easy-to-use pill form, take one before bed with a glass of water or a warm cup of herbal tea for a peaceful, uninterrupted night of sleep. Naturally derived from top-graded hemp extract, it is safe, effective, and of course, vegan. Add to your cart today! 
Sleep Blackberry Gummies
Papa and Barkley make some of our favorite products of all time, and their new Sleep Blackberry Elderberry gummies are certainly no exception. This holistic sleep aid is the Triple Crown of night-time products, boasting the perfect combination of THC, CBD, and CBN: THC for comfort, CBD for relaxation, and CBN for a sedative effect. All three work in tandem to help you fall asleep, stay asleep, and wake up feeling refreshed. Skip the hangover, groggy feeling that you can get from those over-the-counter, drugstore products.
Nighttime Berry Lime
It was Mary Poppins who told us that a spoonful of sugar helps the medicine go down, but with Cannabis Quencher's new Nighttime Berry Lime drink, that helping of sweetner is totally unnecessary. A capful of this mocktail is not only delicious and sure to help you fall asleep, but it also works to support pain relief and relieve inflammation. Valerian, lemon balm, and glycine combine forces in this product that is perfect for microdosing, so you can help find the perfect dose for you. 
Watermelon Spark
Calm your body and soothe your nerves with Heavy Hitters' Watermelon Spark. Ultra Pure and Ultra Potent concentrates come together into one great product, delivering a powerful and targeted experience. The gummies are by far the heaviest hitters on the market, but they are sure to leave your mouth watering, as they are packed with real fruit flavors. 
The Relaxing Indica
For our customers who tend to enjoy a traditional smoke, then you're in for a treat with this six-pack of smokes from Lowell Herb Co. This relaxing and enjoyable pre-roll is fruity, piney, and with just a hint of spice. This is a light Indica blend perfect for winding down after a stressful day. And since it's a pre-roll, you have the added benefit of convenience and perfect dosing. Grab these off the shelf today from our cannabis dispensary in Port Hueneme to light up and kick back!
Midnight Mint
We've all been there – the hunt for the perfect midnight snack to satisfy our sweet tooth. Skip the overly loud plastic cake container (you know which one I'm talking about, the one that lets everyone in a five-mile radius know you're cheating on your diet) and grab Kiva Confection's Midnight Mint. This chocolate bar isn't just your run-of-the-mill convenience store treat, no! It is packed with CBN, perfect for helping you fall asleep and stay asleep. 
Tranquility Gummies
Last but certainly not least on our list are Kanha's tranquility CBD gummies. This great product is made with all-natural ingredients, colorings, and flavors. Because each gummy is also infused with the highest quality cannabis oils, you can rest assured knowing that you are getting the safest, most consistent experience available. Essential oils, melatonin, and CBD come together in these delicious raspberry gummies to provide a sleep that is restful and refreshing and void of those annoying and detrimental wake-ups. 

The Takeaway
One ingredient you probably saw mentioned a lot was CBN. If you're unfamiliar with CBN and it's many health benefits, we suggest reading more about it. Not only is it an effective sleep aid, but it can also serve as a neuroprotectant, an appetite stimulant, and even an anti-inflammatory. 
Don't miss out on the good, quality sleep you deserve any longer! If you are in the area, stop by our cannabis dispensary in Port Hueneme and talk to our great employees about the products mentioned above and let them answer any questions you might have regarding CBN and using cannabis as a sleep aid. After all, our staff is here to help and make sure that your experience at From The Earth is a positive one!